Stonefields School is a rapidly expanding state primary school in Auckland, New Zealand, a few km from the central city. Auckland plumbing contractors, Topline provide specialist commercial plumbing for this school expansion building project, working with architects drawings to provide plumbing solutions from the ground up.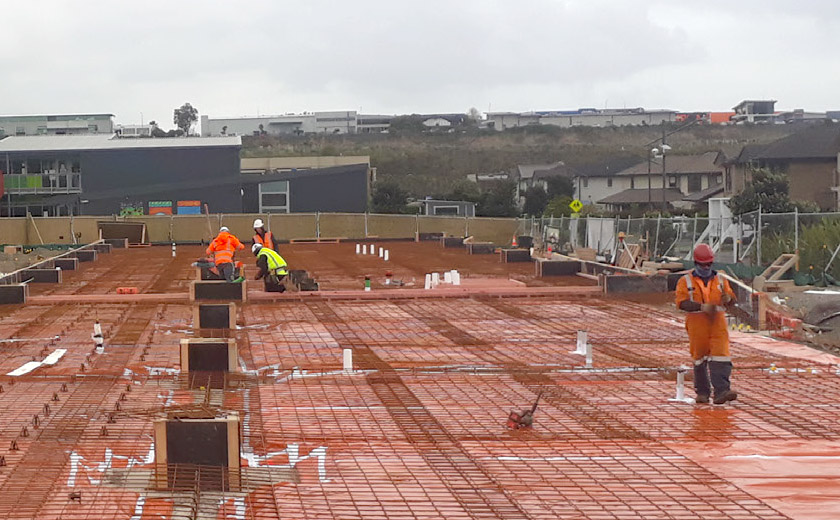 Commercial plumbing sub-contractors
Stonefields School was built in 2011 and has been expanding since. Topline Trade Services won the tender to supply and install plumbing to stages 3 and 4. This meant working accurately and efficiently with the main contractor according to detailed architectural drawings, hydraulic drawings, and other specifications, to complete the design and build on this project.
school plumbing Installations - from the Ground Up
The team had a big job on their hands, installing the plumbing, literally from the ground up, laying P.V.C underslab MDPE water pipework in the ground, from the existing building's potable and non-potable water supplies to the new building. However, our experienced team made light work of installing the various tapware, basins, toilet suites, troughs, drinking fountains and sinks.
This job was not just about the basics of taps, toilets, and sinks though. Topline is proudly an approved Rheem service agent and installed a number Rheem Mains Pressure Vitreous Enamel hot water cylinders in the building. These are suitable for a wide range of water conditions and are lined with vitreous enamel, which provides additional corrosion protection.
Health and Safety Matters
The success of this job was due to the expert knowledge of Topline's Project Managers Willie and Dave, who have over 60 years' experience in the industry between them, and our team of professional, licensed plumbers. Our skilled team are all trained in various aspects of Health and Safety and make safety a priority each and every day.
"No site is ever without its difficulties, but the team rose to every challenge faced on site. We are very proud of the finished result and what the team has achieved."
- WILLIE DOWNIE, PROJECT MANAGER