Compliance
BEST PRACTICE
Topline Trade Services is known throughout the industry for its high standards when it comes to compliance and Health & Safety.
Building Code
In accordance with the law, all building work in New Zealand must comply with the Building Code. Topline Trade Services only uses products that comply with the New Zealand Building Code. Our working standards match and often exceed the Code, and we are always happy for external parties to sign off our work.
Site Safe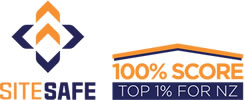 Topline is an accredited Site Safe member. Set up by members of the sector, Site Safe is a leading advocate for construction workplace health and training.

SiteWise

SiteWise is an online prequalification system managed by Site Safe

which grades a contractor's health and safety capability. Main contractors and principal organisations who have signed up to use SiteWise can view the results of the contractors' assessment through the SiteWise Contractor Database. These organisations use SiteWise to make better-informed contractor selections, making the tendering process more simple and efficient.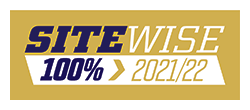 TOPLINE IS PROUD TO HAVE ACHIEVED CONSECUTIVE 100% RATINGS FROM SITEWISE:
SiteWise Gold Status
Score: 100/100 (170 out of a possible 170) - Topline Trade Services & Topline Roofing
Achieved 2021, 2020, 2019, 2018, 2017 (Consecutive Results)
This puts Topline in the Top 0.4% of Trusted Contractors for New Zealand.
"An excellent submission. Congratulations on achieving 100% Gold Standard. Well done" - Neville W (SiteWise)

"An excellent result not achieved by many companies. You are to be congratulated. Keep up the great work." - Kelvin Sparks (SiteWise)
Prequal accreditation

In line with industry legal duties under s18 of the Health and Safety in Employment Act, Topline recently underwent a prequal assessment by Impac Prequal and are delighted to report that we achieved a rating of 4 stars out of 5.
Insurances
All of our work (residential and commercial) is covered by Liability Insurance, which has a standard $10 million cover, providing you with additional peace of mind. We always advise residential clients to talk to their insurance company prior to carrying out any renovation work, as their policy may require additional cover during the renovation process.
Warranties
At Topline Trade Services, all of our workmanship is guaranteed. We also offer warranties on all products we supply.
Licensing
All Topline staff are licensed to carry out their work safely and effectively and undertake refresher training as required.
HEALTH & SAFETY
Our dedicated H&S manager
Our HSEQ Manager ensures that every member of the Topline team works to Health and Safety best practice at all times. They oversee

our proprietary H&S programme Top Priority and is responsible for our health and safety programme, ensuring accordance with the latest workplace safety guidelines and are also in charge of making sure we are compliant with legislation, health and safety management systems and safety performance.
First aid
Key staff members including trades' team Leading Hands and Supervisors hold First Aid Certification.
We are drug free

Topline Trade Services has a zero-tolerance drug policy and works closely with The Drug Detection Agency (TDDA) following its workplace drug policy, education and testing requirements. These include pre-employment drug and alcohol testing and criminal checks, and monthly random drug/alcohol testing.