SiteWise Gold - Celebrating 100% again!

Date: 19 July 2022
For the sixth consecutive year, Topline has achieved SiteWise Gold status!
the sitewise pre-requisite, auckland
We are thrilled to have once again attained a 100% score in the SiteWise annual health and safety assessment for our plumbing, gasfitting, drainage and roofing services, attaining SiteWise Gold for the 2022 – 2023 period.
sitewise gold 2022/23, commercial plumbers, auckland
Less than four percent of NZ companies manage to attain SiteWise Gold, with fewer than 0.4% managing 3-6 consecutive years, demonstrating Toplines ongoing commitment to health and safety. This is especially important for our commercial plumbing, commercial gasfitting and commercial drainage clients.
sitewise gold, a commercial prequalification
SiteWise is often part of the prequalification process when selecting a commercial plumbing contractor, gasfitting contractor, or drainage contractor. It proves we have processes in place to reduce risk and provides assurance we are ticking all boxes when it comes to health and safety.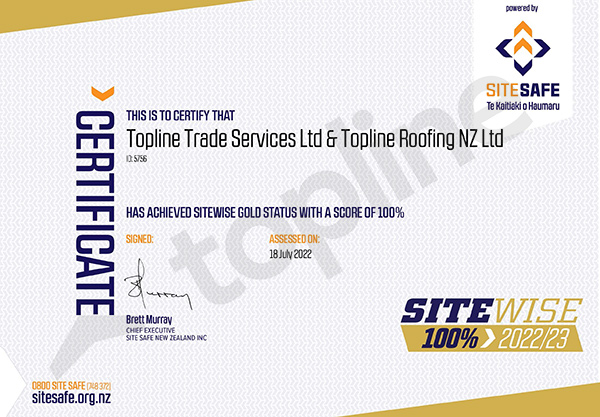 health & safety excellence
You can find out more about the SiteWise Criteria and how we did on our SiteWise Gold blog article on our roofing website.
sitewise gold accredited contractors
Auckland's SiteWise Accredited Contractors, Topline Plumbing, Gasfitting, Drainage and Roofing. Get in touch with the specialist trade experts – we're happy to help!