Draining away
Stella Maris School in Silverdale, north of Auckland, is a state-integrated Year 1 to 8 Catholic school providing education to 314 students from a broad geographical area with 25 staff. The special character of the school is evident in teaching programmes and in the attractive physical environment.
Topline has worked with the school for several years performing on-going maintenance along with taking care of their plumbing and building requirements, so when staff and pupils noticed water spewing out from underground, Topline was the obvious choice to fix the leaking drain. The repair involved work in the street on pipelines leading to the water main for which the school was responsible. This entailed a major co-ordination exercise with agencies including Telecom, Watercare, Chorus, Vector and Auckland Council. A major concern was the large fibre optic cable serving the whole of the Hibiscus Coast.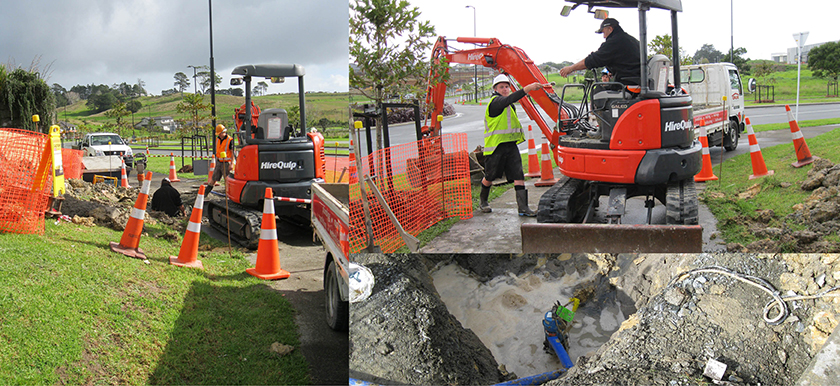 Spadework
The project was overseen by Operations Manager Willie Downie whose 20 years' experience in the sector meant he had the wealth of knowledge necessary for such an intricate project. Applications had to be made online to the Chorus and Vector websites with accurate drawings of the area concerned, providing details of the location of utilities. Detailed application to the Council was also needed so that checks could be made in all departments to ensure that relevant regulations were complied with.

As Willie Downie said, "Topline knew the processes and protocols which had to be followed before so much as a spade could go into the ground. With our vast experience, we were able to achieve co-ordination with all the external parties, get the necessary approvals, consents and sign-offs and ensure that a traffic management plan was in place. All this had to be organised before the problem itself could be tackled."
Once all the agencies were on board and in a position to check that their pipelines and cables would not be adversely affected, the repair could go ahead. The pipework and outlets from the retention tanks were upgraded and plumbed in to the Council water lines and the work was completed in three days.
Health and Safety issues
Because extensive digging in the road outside the school was involved, a traffic management plan was required and a specialised company had to be contracted to implement this. Topline's concern was to minimise the impact of the works on the local residents, to ensure their safety and that of passing pedestrians and motorists, while at the same time keeping to a tight timescale.