St Paul's College, Ponsonby
Located in Richmond Road, Ponsonby, St Paul's College is a Catholic college in the Marist tradition, providing a holistic education where academic, sporting and cultural achievements are celebrated. The school's guiding principles are respect and responsibility; students are challenged to be courageous, fearless individuals, who stand up for what is right, and always strive to improve themselves, their families and their communities.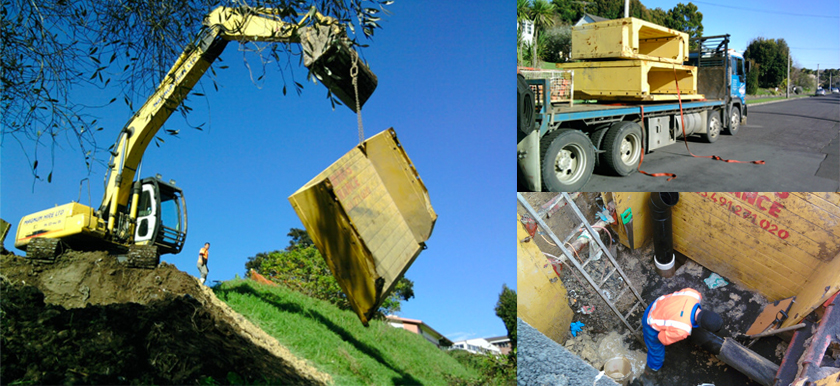 A serious problem had arisen with the school's stormwater system and an extensive upgrade was necessary. Topline had the experience and expertise essential for such a demanding project and was more than willing to take on the task. A decision was made to undertake the work in the school holidays when there would be no risk of interfering with lessons and sporting activities and when children's and teachers' safety would not be put at risk.
SAFETY STEPS
The open trench excavation reached a depth of more than 1.5 metres, making it necessary to shore up the sides of the trenches to prevent collapse. The site was carefully fenced for security reasons, so that even though the school was not in session, there was no danger of anybody falling in and injuring themselves.
Topline's Operations Manager Willie Downie commented, "Even though the children were on holiday, safety was a priority on this deep trench project. Security fencing was used to surround the area under excavation and access to the site was tightly controlled."
Fusion welded PVC drain lines were used for the repairs. These would be long-lasting and would prevent further flooding for many years to come.
Topline arranged for the trenches to be carefully in-filled and for adequate topsoil to be supplied so that the grass could be reinstated and the ground re-seeded where necessary. The children and staff could return to school after the holidays to a pleasant, flood-free environment.
"Even though the children were on holiday, safety was a priority on this deep trench project. Security fencing was used to surround the area under excavation and access to the site was tightly controlled."

WILLIE DOWNIE | TOPLINE PROJECT MANAGER