Rain, rain don't go away
Harvesting rainwater is becoming increasingly popular across New Zealand as homeowners are becoming more environmentally conscious. In addition to this, saved rainwater supplements the town water supply and helps to reduce ever increasing utility bills.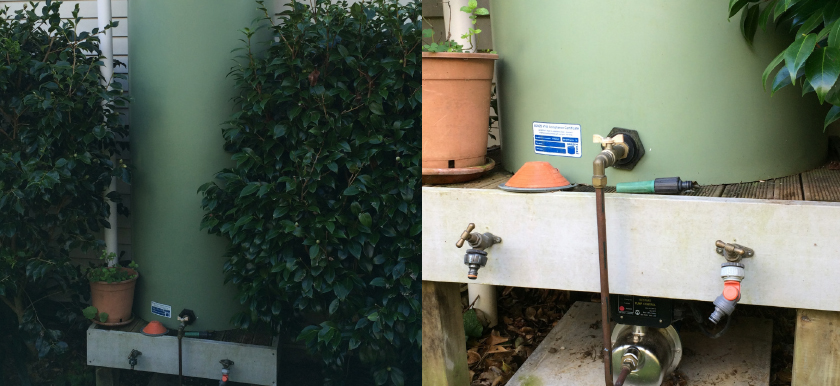 Avid gardener Faye Willis of One Tree Hill, Auckland, wanted to do her bit for the planet. She approached Topline Trade Services and asked if they could suggest how she could collect rainwater to be stored and recycled for her garden. Topline designed a system consisting of a 1,000 litre water tank coupled to a pressure pump system, attached to a manifold and irrigation system. Mrs Willis can manually connect the tap to a hose or to a sprinkler system on a timer, giving her versatility and cost-savings.
water on tap
The Topline Trade Services team undertook all aspects of the project, from supplying the tank and irrigation system, through to custom building a wooden platform to keep the tank elevated, (this was requested however, it isn't a requirement for all jobs). The platform measured one metre by one metre in diameter and included seismic restraint brackets as specified in the earthquake building standards. Topline Director and Project Manager Neil Gillespie says, 'We are increasingly being asked to fit these type of water saving irrigation systems for clients who are taking a greener approach to the environment. Why buy in water when you literally have it on tap? Being able to store even 1,000 litres of rainwater is more than enough to service an averaged-sized Kiwi garden when connected to timers and dripper lines.
Neil continues, "We have also been involved in a number of water saving schemes including working with Auckland Council, and some local schools and kindergartens. It's a win-win for everyone and the return on investment far outweighs the cost of the initial outlay."
Mrs Willis comments, "I'm delighted with the rainwater harvesting system. I can control the water output by tap or save even more money on water by setting the irrigation system to run at night time." She concludes, "Topline was very quick and efficient when it came to installation and testing the system. I can't fault their workmanship and attention to detail. I hope my installation will inspire more householders to do their bit for the good of the environment."
"Topline was very quick and efficient when it came to installing and testing the system."

FAYE WILLIS | HOME OWNER