Back to school for topline
Hay Park School located in Mount Roskill has recently undergone a huge building project, and Topline's plumbing divison has been at the centre of all the drainage, pipework and sanitary refit work.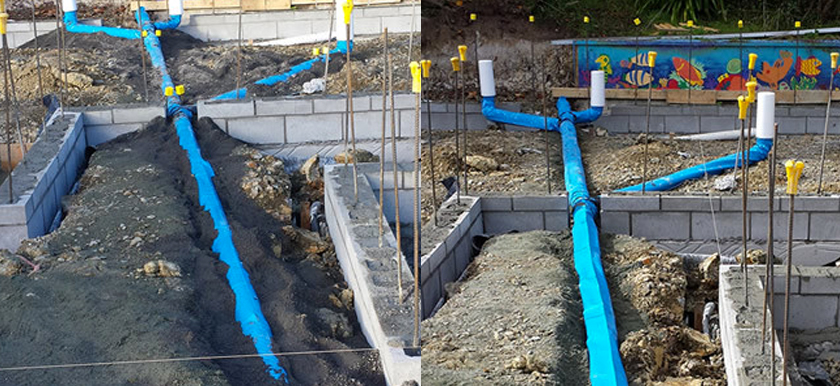 Due to its poor condition, a block housing the library, art room and classroom space at the School needed to be demolished to make way for a new building. Before the bulldozer could move in, the Topline team was on site to isolate the existing water supply and remove the old sanitary fixtures and outdated hot water boiling unit. The water, waste and drainage connections were also blanked off.
Once the the ground had been cleared, Topline set about work on the underslab drainage system which needed to be completely replaced. The team installed new PVC soil, waste and vent pipework for the proposed sanitary fixtures.
When the pipework was put in place, concrete was laid over the top, ready for the building to be constructed. At this point, the team was able to go back on site and undertake the pre-pipe work.
the facility's facilities
Topline recommended, supplied and installed two Rheem 312 045 15 mains pressure electric hot water cylinders. New sink benches were placed in the staff room and meeting room complete with integral pressure control valves and tempering valves set at 55 °C.
A reticulate hot water pipework system was specified throughout the new structure to be used across all sanitary fixtures. Topline then supplied and installed new water supply pipework, valves and fittings to connect with the existing incoming water supply.
Two new toilets, hand basins and a new sink were installed with waste gullies connecting to the new drainage systems. After the sanitary fixtures and tapware were installed, Topline then undertook a number of tests to make sure all of the equipment was in good working order.
Health and safety issues
What would have been a straight-forward project was complicated by the fact that the school was operational throughout the build. The contractors and Topline were responsible for keeping all 200 pupils and 10 staff at the school safe.
Willie Downie, Topline's Operations Manager commented, "Safety is a priority across all projects we work on. We had the additional pressure on this job of a number of inquistive children aged between 5 and 11 years old, trying to see what we doing at their school.
This meant that we had to barricade off the construction area from the rest of the school with security fencing. Access to the site for the contractors and their sub-trades was rigidly controlled, which meant meticulous planning and scheduling had to be factored in to the job."