topline among the wildlife
Home to 138 different species and over 875 animals, Auckland Zoo has the largest collection of native and exotic animals in New Zealand. The zoo has attracted a record number of visitors over the past year, welcoming over 716,000 local and overseas adults and children through its gates.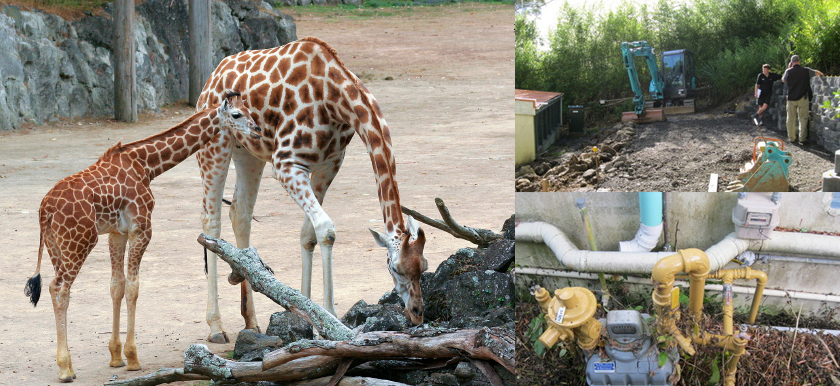 Given the size of the zoo, it is not surprising that there is a constant need for repairs, maintenance and new constructions. The zoo turned to Topline for three major projects, knowing that the team were used to working in situations where members of the public were present. Topline has an outstanding reputation when it comes to stringent health and safety protocols required for projects on this scale.
topline earn their stripes
Topline completed the re-roofing of the giraffe house using safety tested cranes and harnesses with strong anchor points. The roofing team used up-to-date equipment and materials, and was able to manage and minimise the potential for risks and hazards throughout the roofing project. Topline is a member of the New Zealand Roofing Association and have the Site Safe seal of approval, and in addition, all roofing staff are height safe certified.
The second project involved works at an outdoor facility at the old elephant house which is now used for corporate functions and conferences. Topline oversaw the digging of major earthworks so that the gas lines could be re-run. The gas fitters then installed outdoor gas heaters with canopies ensuring compliance with gas certification requirements, health and safety regulations and ventilation issues.
The third project was the repair of a burst water main in the tiger enclosure. This called for all the ingenuity the plumbing team could muster as they had to fit a temporary clamp on the faulty main until the tigers could be safely moved elsewhere. Only then could they undertake the permanent repair, making the enclosure safe and dry for the animals on their return.
Each job had a project manager to ensure that everything ran smoothly and was completed efficiently, with the minimum of disruption. Alister Nesbit, one of Topline's Project Managers explained "The safety of the visiting public was of huge concern to us and to safeguard this, all our vehicles were driven on site at snail's pace with someone walking in front of them.
The role of the project manager cannot be underestimated when working in an environment of this scale. It involves the co-ordination of many elements from organising zoo staff, our personnel and the general public, through to arranging for the animals to be temporarily
re-housed."