REPUTATION
The Topline advantage
There are a lot of cowboys out there, which is why we always suggest you do your homework before committing to a contractor. We believe we're a cut above the best, with our hugely experienced, accredited and licensed team.
Topline Trade Services offers only the best quality solutions, which will give you results that last, and the best value for money. We aim to make every job run smoothly by establishing excellent client relationships, and we endeavor to arrange every detail before work begins, ensuring your project runs on time and to budget.
Our customers
In over 30 years of business, we have worked with thousands of customers across many different sectors including:
Commercial and residential property owners
Major schools (state and private) and tertiary institutions
Rest homes and retirement villages (corporate and independent)
Government institutions
Auckland Council
Hotels
Property managers
Construction companies
Major corporations
Click here if you'd like to hear what our customers say about us.
HEALTH & SAFETY
Our reputation is bolstered by our continued investment in health and safety. Topline strives to ensure that every member of its team works to Health and Safety best practice at all times. Topline has a dedicated HSEQ Manager.
Top Priority is our health and safety training programme ensuring accordance with the latest workplace safety guidelines. Our HSEQ Manager is responsible for making sure we are compliant with H&S legislation and safety performance.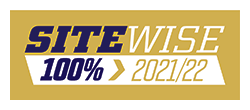 Topline's focus on safety and quality means we never cut corners in our products, techniques or equipment, helping to protect our staff, the general public and your people and property. In accordance with Work Safe New Zealand health and safety regulations, our team regularly attends courses and is provided with all necessary safety equipment. We are proud to have once again achieved the SiteWise Gold status, with a score of 100% for five years running.