RELIABILITY
Accreditations, codes and safety
Most people have had some bad experience with a tradesman, we often hear how customers have been let down by poor workmanship, overcharging, tradies not turning up for the job, or not clearing up before leaving. You won't encounter these issues with Topline Trade Services. We do everything by the book.
We have achieved accreditations, qualifications and follow industry codes and standards so you that you can rely on us. Read on for more information on what guidelines we adhere to:
Building Code
In accordance with the law, all building work in New Zealand must comply with the Building Code. The Code does not specify how a building must be designed and constructed, but is performance-based, which means it details how a building must perform in its intended use. It covers matters such as structural strength, protection from fire, moisture control and durability.
Topline Trade Services only uses products that comply with the New Zealand Building Code. Our working standards match and often exceed the Code, and we are always happy for external parties to sign off our work.
ACC accreditation
Topline Trade Services ha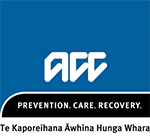 s achieved secondary level for the ACC Accreditation Employers Programme and is currently working towards tertiary level accreditation. By participating in the Programme and becoming an accredited employer, Topline is effectively raising their level of commitment to workplace health and safety management.
Insurances
When it comes to commercial or residential projects, never assume your contractor is covered by insurance. If your contractor is uninsured, then any work undertaken at your property that causes damage could come out of your pocket.
Our work is covered by General Liability Insurance, which has a standard $10 million cover. For residential work, it is important to talk to your insurance company prior to carrying out any renovation work on your home, as your policy may require additional cover during the building process.
Warranties
We guarantee our workmanship and we also offer warranties on all of our products. The warranty is a manufacturer's guarantee that they will stand by the products they supply.
Upon completion of a project we will provide you with all associated paperwork and warranties. It's worth checking your warranty to make sure you follow the manufacturers' guidelines to validate the guarantee.
Licensing
All Topline staff are licensed to carry out their work safely and effectively and undertake refresher training as required.